RACE TO BUILD A SUSTAINING COLONY
A hybrid strategy game where you race to grow your colony and migrate citizens from Earth to Mars in a competition to build the first official city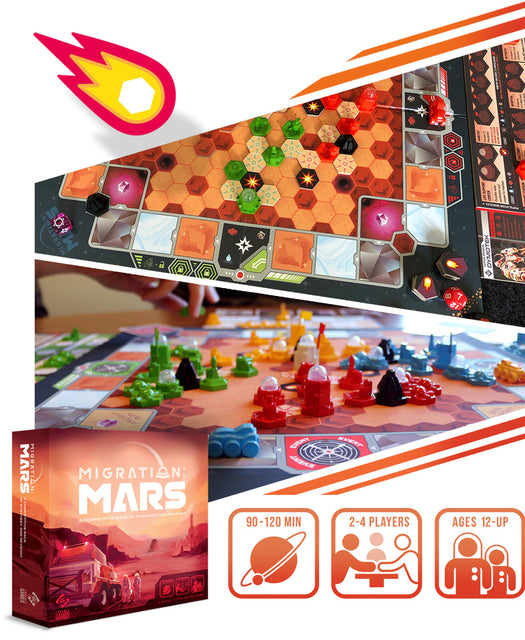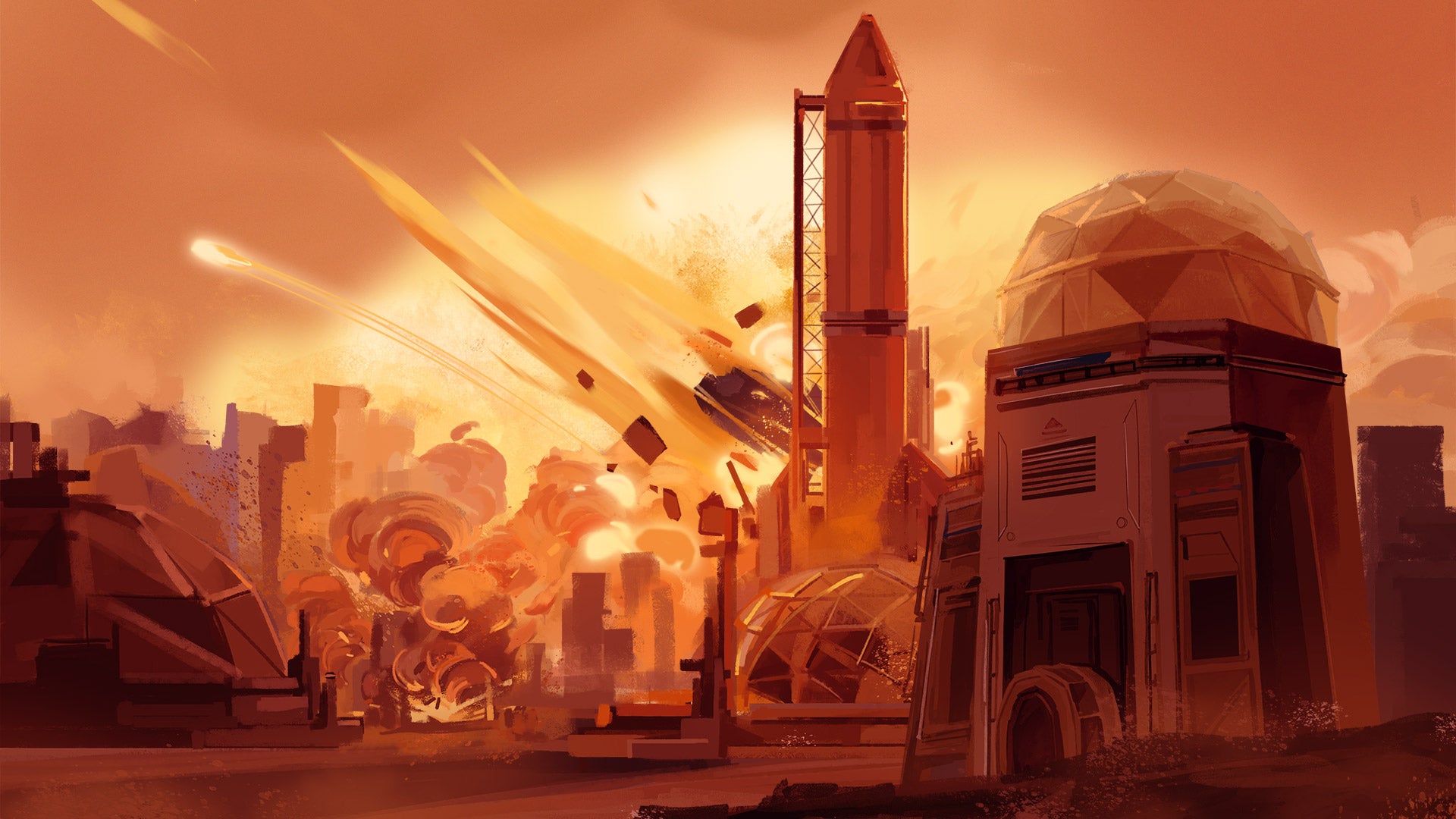 YOUR OBJECTIVE:
Explore and unlock assets to grow and sustain your colony.
The larger it becomes, Earth will migrate more citizens to you. 
The first player to reach the target population wins the governorship of Mars!
GAME PLAY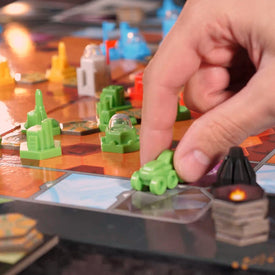 Multi-Phase Action Selection
Command two separate teams within your faction each turn. Direct your construction team to build and grow your colony. Guide your exploration team to discover and excavate useful assets to keep your colony functioning.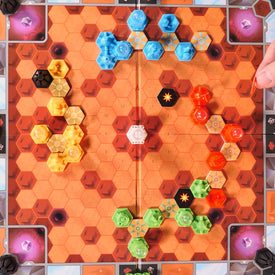 Bringing Everyone Together
Layers of progressively increasing strategic paths are designed to appeal to both the casual gamer and the experienced hobbyist alike. Different scenarios of mechanisms and actions create a new experience each time you play!

SELECT YOUR CREW
Each faction has different incentives and advantages that can accelerate your mission and shape your individual strategy.

BUILD YOUR COLONY
Each building has its own set of functions and costs. Use collected resources and supply stop shipments to build, grow, and maintain your colony.

BONUS SIDE MISSIONS
Explore ancient Martian ruins and weigh your risk against your reward.
But beware! Many explorers have been injured or even lost within these treacherous ruins—get out quick!

INCREASE YOUR POPULATION
Grow your colony and maintain your life support to accept more migrants from Earth. Keep your people alive and well.
Remember this is a race!
ORDER TODAY
One full stand-alone board game. First Wave Edition. (Includes Expanded event deck, metallic print on special cards and tiles, plus 4 faction I.D. booster cards)
225+ cards
100+ miniature structures and flags
50+ hex tiles
4 faction packs
5 dice
18 x 18 inch terrain board
Built-in card holder/organizer
Reference guide cards
Game survival guide/rule book
ORDER NOW AND GET $20 OFF!
ORDER 2 AND GET FREE SHIPPING!
Ships From USA
RATINGS AND REVIEWS

"...Certain elements remind me of some other city building games i've played, but this has its own unique feel and gameplay, especially once meteors start coming down. Our first playthrough took about 2 hrs, but our second one only took 1 hr. Looking forward to being able to have more people over to play"
– Scott

"We really enjoyed Migration Mars! It's much more than just a "roll and move" . Very thematic and strategic. Hopefully we play with 4 players next time and can really see it shine."
– Roo

"This is such a fun game! I played with my coworkers many times and we all enjoy it so much! Definitely recommend it!"
– Jana

"The real question is this... Is it fun to play? I respond with a resounding "YES!" I am very happy I backed this project."
– Don